The much anticipated revised Saskatchewan Budget was delivered on June 15th, 2020 by Finance Minister Donna Harpauer. The budget now anticipates a deficit of $2.4 billion for 2020/2021.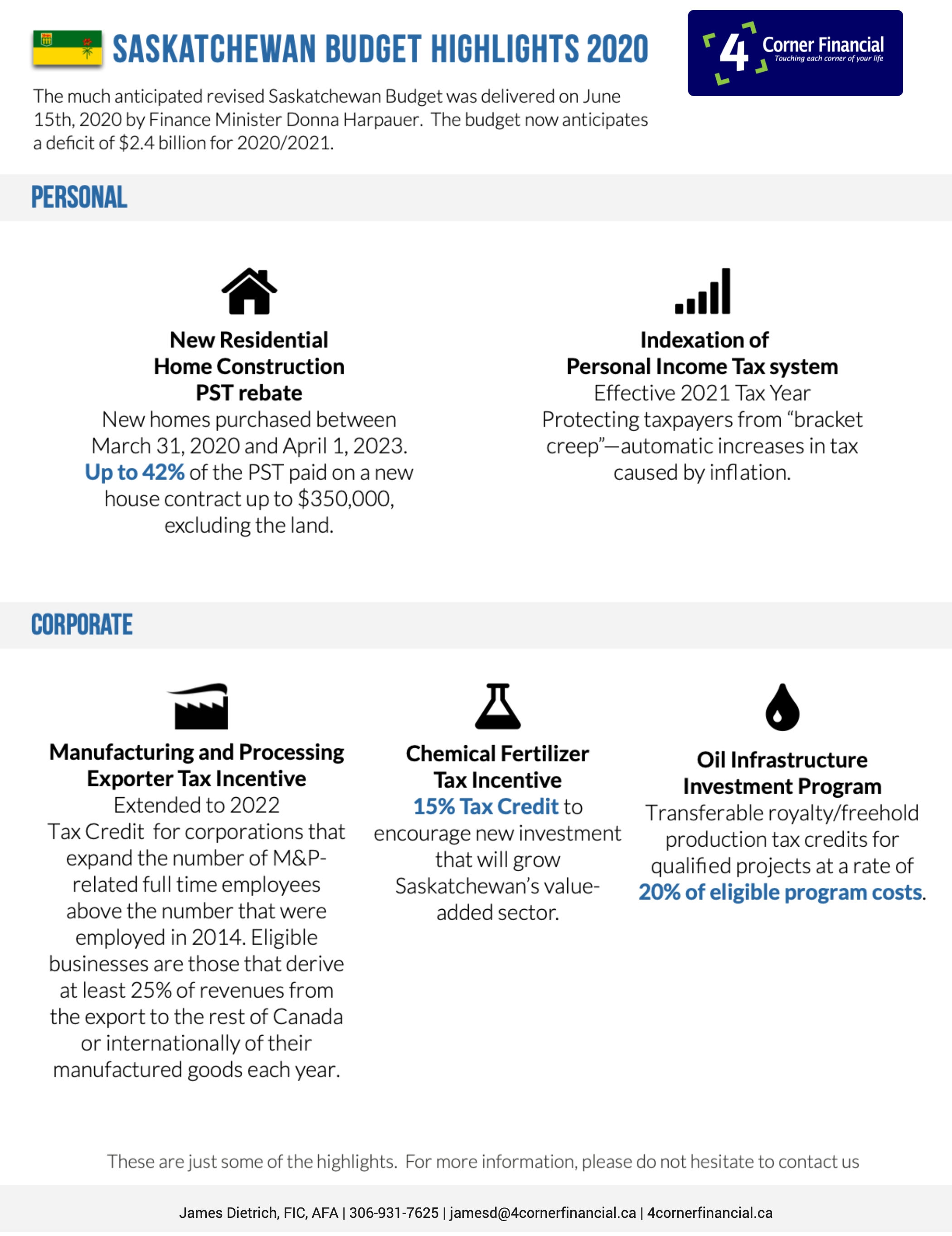 Personal Tax Highlights
New Residential Home Construction PST rebate
"Our government has also introduced a PST rebate for new residential home construction of up to 42% of the PST paid on a new house contract up to $350,000, excluding the land, for new homes purchased after March 31, 2020 and before April 1, 2023. The new rebate will help the province's construction industry, homebuilders, and associated trades to create jobs. And it will help Saskatchewan families to afford a newly built home." – Finance Minister Donna Harpauer
Indexation of Personal Income Tax system
"This budget reintroduces full indexation of the Personal Income Tax system, beginning with the 2021 tax year, protecting taxpayers from "bracket creep"—automatic increases in tax caused by inflation." – Finance Minister Donna Harpauer
Corporate
Tax Highlights
Oil Infrastructure Investment Program
"The Oil Infrastructure Investment Program, a SaskFirst new growth tax incentive administered by the Ministry of Energy and Resources, has been introduced to support new and expanded pipelines, as well as new pipeline terminals, to flow oil to market." – Finance Minister Donna Harpauer
Chemical Fertilizer Tax Incentive
"This budget also introduces a new Saskatchewan Chemical Fertilizer Incentive, providing a 15 percent tax credit to encourage new investment that will grow Saskatchewan's value-added sector." – Finance Minister Donna Harpauer
Manufacturing and Processing Exporter Tax Incentive
The M&P Exporter Tax Incentive provides non-refundable tax credits to eligible corporations that expand the number of M&P-related full time employees above the number that were employed in 2014. Eligible businesses are those that derive at least 25% of revenues from the export to the rest of Canada or internationally of their manufactured goods each year and that:
"manufacture or process" goods for sale as defined in the federal Income Tax Act; or

are principally involved in the commercial development of "new economy" products for export, including interactive digital media products and creative industry products.
Please don't hesitate to contact us if you have questions about how the budget will affect you.